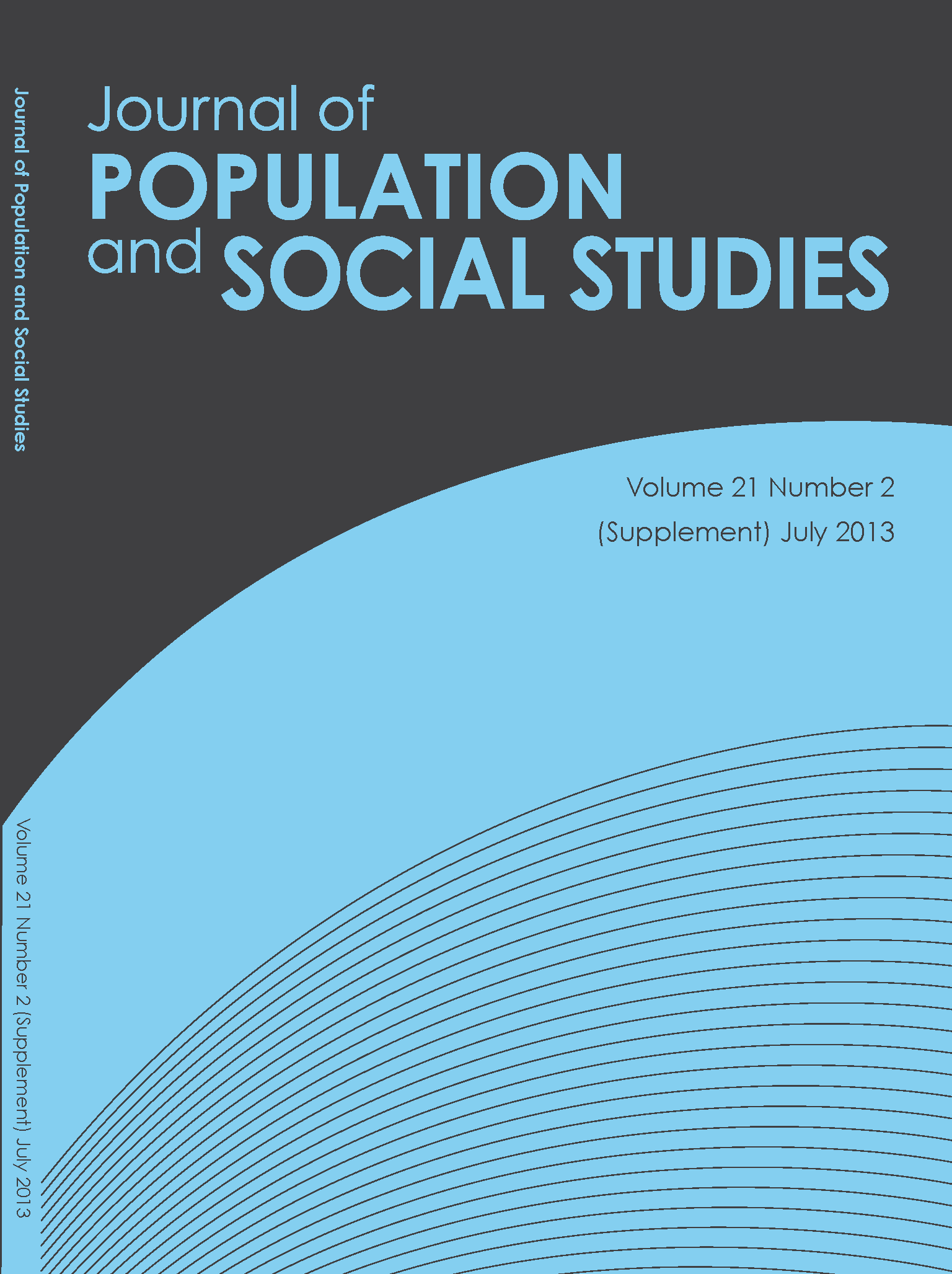 ISSN 2465-4418 (Online)
Journal of Population and Social Studies (JPSS) is an open access peer-reviewed journal that is published by the Institute for Population and Social Research, Mahidol University. Journal of Population and Social Studies (JPSS) publishes 4 issues per year. JPSS is an online Journal without any fees charged for publication.

Our aim is to provide a platform for the researchers, academicians, professional, practitioners and students from all around the world to share knowledge on the empirical and theoretical research papers, case studies, literature reviews and book reviews. Priority is given to original research articles, research reports, review articles and book reviews that are of interest to the academic community, policy-makers and practitioners.

Journal of Population and Social Studies (JPSS) welcomes contributions from the fields of demography, population studies and other related disciplines including health sciences, sociology, anthropology, population economics, population geography, human ecology, political science, statistics, and methodological issues.
Preparation of manuscript: A manuscript should be prepared in American English and should not exceed 8,000 words (about 25 pages, double spacing). It must follow the APA standard format and style for academic papers, especially with regard to in-text citations and references. Guidelines for preparing the manuscript are provided at the Guidelines for Preparing Manuscripts link above. Authors are recommended to consult these guidelines before submitting their manuscripts. Manuscripts that are not prepared in the required format will not be considered for peer review.
Submission of manuscript: Authors are recommended to submit manuscripts via online submission through ThaiJo.
Review process: Manuscripts are first reviewed internally by the JPSS editors. Those that meet the journal's requirements for content, language, length, and format of citations and references will be sent for external peer review. The review process usually takes about 4 weeks.
Revision and language editing: Reviewed manuscripts may need revisions. In addition, those considered to be publishable in terms of the content may require additional language editing. Authors of the manuscripts are responsible for the costs incurred for editing, if recommended.
Dissemination and disclaimer: JPSS is now an open-access online journal. With the exception of fair dealing for the purpose of research or private study, no part of this publication may be reproduced, stored, or transmitted in any form without prior permission in writing from the publisher. The publishers and the editors of this journal cannot be held responsible for any errors or consequences arising from the use of information contained in this journal. The views and opinions expressed in the articles do not necessarily reflect those of the publisher and the editors.